Services
Conley Equipment Company provides installation and maintenance, engineering and integration services to a wide variety of industries, including telecommunications, oil and gas, data center, education, government and utility. We offer our clients cost-effective, timely and professionally-installed project solutions.
Unlike most installation contractors, Conley is capable of providing customers with the complete package, leaving you with one single point of contact to complete your project promptly. We ensure we complete all jobs correctly the first time around.  Our highly skilled, experienced and trained project managers and technicians support multi-vendor power and infrastructure projects.
We're one of the nation's most trusted supplier of batteries, AC power products and DC power products. Learn more about our services below, and contact our team with any further questions you may have.
Highly skilled, experienced and trained project managers and technicians support multi-vendor power and infrastructure projects. Some of our installation and maintenance services include the following:
DC Power Plant Installations
DC Power Battery Installations
UPS Battery Installation/Change-outs
Hot Cut-Over Work
Infrastructure Installs
Facility Audits
Scheduled Battery Maintenance
Emergency Maintenance
Equipment Removals/Tear Outs
Grounding
Conley Equipment Company has designed and engineered hundreds of AC and DC power and telecommunications systems. Experienced consultants, engineers and CAD operators that use standards created by Telcordia, ISO9001, CEC,and our customers deliver the following services listed below:
Site Design, Floor Layout
DC Power, Plant Specification
UPS Battery Design
Product Specification
As Built Drawings
Bill of Material Specification
Conley Equipment Company is trained and authorized to integrate a wide variety of transmission and power products. With our state-of-the-art warehouse facility, Conley can stage, integrate and support your most critical integration or warehousing application. In addition, our battery warehouse serves as a battery recycling staging center, allowing your company to send all batteries to Conley for an EPA-approved recycling process.
Learn more about our system integration and warehouse services below:
Battery, DC plant and UPS Distribution and stocking programs
Rack and Stack Integration
DC Power Systems Integration
Battery Cabinet Integration
AC/DC Power Products Test and Repair
Warehousing/Logistics
Battery Recycling/Disposal
Battery Charging and Testing
Our Strategic Battery Partners
East Penn Manufacturing
East Penn Manufacturing is the largest single-site battery manufacturer in the world. Since 1946, East Penn has been manufacturing high-quality Deka Batteries. The complete line of Deka stationary batteries by East Penn provides dependable, reliable power for a wide variety of applications including telecommunications, uninterruptible power supplies (UPS), utility, oil and gas, emergency standby applications and many others. Power Range: 30 to 2000 amp hours.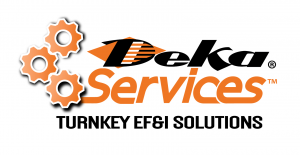 Deka Services
As a strategic equity partner for East Penn. Deka Services provides us with true nationwide EF&I coverage. We can provide our customers with factory direct pricing, extend warranties, and logistical support. We can service our customers with superior regional customer support and local technicians while maintaining safe/high quality installations. With the backing of a $2.5 billion dollar company no project is to large or to complex for Conley Equipment Company.
Could you use any of the services listed above? Contact us today to receive a quote.