System Integration and Warehouse Services with Conley Equipment Company
System Integration and Warehouse Services You Can Rely On
Conley Equipment Company is your battery supplier and fully-functional service operator. We have a team of experts who are trained and authorized to integrate a wide variety of transmission and power products. Conley is fully equipped to stage, integrate, and support your integration or warehousing application. We also do battery disposal. At Conley, we know just how difficult it can be to properly dispose of your batteries. The EPA has strict standards, and they do it for a good reason. Depending on the type of battery, they can contain zinc, copper, lithium, cadmium, manganese, lead, mercury, manganese, or potassium, which are all hazardous to the environment. More than that, there are some serious potential dangers to human health.
That's why all of our customers have the option of sending their batteries to our battery recycling center. We follow an EPA-approved recycling process to ensure your batteries are properly disposed of.
---
Our battery warehouse is equipped for anything you might throw at it. Here are some of the ways Conley can help with your System Integration and Warehouse Services needs:
Battery, DC plant and UPS Distribution and stocking programs
Rack and Stack Integration
DC Power Systems Integration
Battery Cabinet Integration
AC/DC Power Products Test and Repair
Warehousing/Logistics
Battery Recycling/Disposal
Battery Charging and Testing
Why choose Conley Equipment Company?
HIGHLY SKILLED AND RESPONSIVE STAFF TO TAKE CARE OF YOUR SYSTEM INTEGRATION AND WAREHOUSING NEEDS
EPA-APPROVED BATTERY RECYCLING PROCESS
CUSTOM PLANS BASED ON YOUR SYSTEM INTEGRATION NEEDS
EXPERIENCE WORKING WITH MANY DIFFERENT INDUSTRIES
PROMPT AND KNOWLEDGEABLE CUSTOMER SERVICE
AND MORE!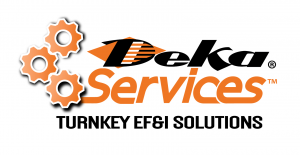 Deka Services
As a strategic equity partner for East Penn. Deka Services provides us with true nationwide EF&I coverage. We can provide our customers with factory direct pricing, extend warranties, and logistical support. We can service our customers with superior regional customer support and local technicians while maintaining safe/high quality installations. With the backing of a $2.5 billion dollar company no project is to large or to complex for Conley Equipment Company.
What our customers are saying:
---
Savvis
The battery replacement has been successfully completed. I wanted to thank you for all of the help and support which ensured the on-time completion of this project. I would like to highlight the professionalism and attention to detail workmanship of Aaron Berger. Aaron was very hardworking and he ensured that work was completed above and beyond our expectations. He even took time to label each battery that was installed which really impressed me.
Your company has exceeded my expectations and I will definitely recommend you for future installs. Thank you again.
Nelson G, NJ1 Facilities Lead – Electrical
---
T- Mobile
I want to express my thanks for all the hard work you put into the power plant replacement job in Tempe. I know it was one of the more difficult jobs you have come across but your professionalism, hard work and attention to detail are values that shined through on this project. I couldn't be more pleased with your work and the end product. I'm glad we chose Conley for the project.
Dana C, Tempe, Arizona
---
Long Island Rail Road
My thanks to you, Gene Rose and Conley Equipment Company for your professionalism and the service that was extended to the Long Island Rail Road while we worked together in installing the emergency backup power system in the Penn Station Radio Room earlier this year.
During the recent blackout that affected a major portion of the Northeast United States, all the power sensitive equipment that was backed up by the equipment that your company supplied held up without a glitch. This ensured, among other things, that the Police in Penn Station were able to maintain radio communications during this difficult time.
It was a pleasure working with you and Gene and I look forward to doing business together in the future.
Paul B, PE, Communication Systems Engineer
You can learn more about our products below:
Batteries button, DC power products button, AC power products button